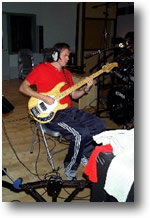 DuranItaly: Have you seen a band with a great desire of redemption under the artistic way? Which of the 5 you have worked better with?


Richard Hilton: As I said, I think they were quite driven to be creative and supportive of each other. They relished the chance, it seemed, to be Duran Duran again.

They were great fun to work with, and as I said, very kind to me in the process. They conceptualize very well, and they have a sort of "big picture" view of the whole process, the record, and their careers.